Diabetes PreventioN & Management Action Team
Our purpose as an action team is to improve diabetes prevention and self-management for Lake County's high risk populations and their families. We do this by addressing policies, systems and environments through partnering, educating and empowering families while being culturally sensitive, so that we can reduce the onset and/or manage diabetes.
Reduce the prevalence of LC adults who have been diagnosed with diabetes by 10% from 6% to 5% by 2031.
Objective 1: Screen 500 individuals for diabetes and prediabetes by December 2018.

Objective 2: Refer 100 community members into new and current DPP by December 2018.

Objective 3: Increase the number of DPP in Lake County from 1 to 3 by December 2018 .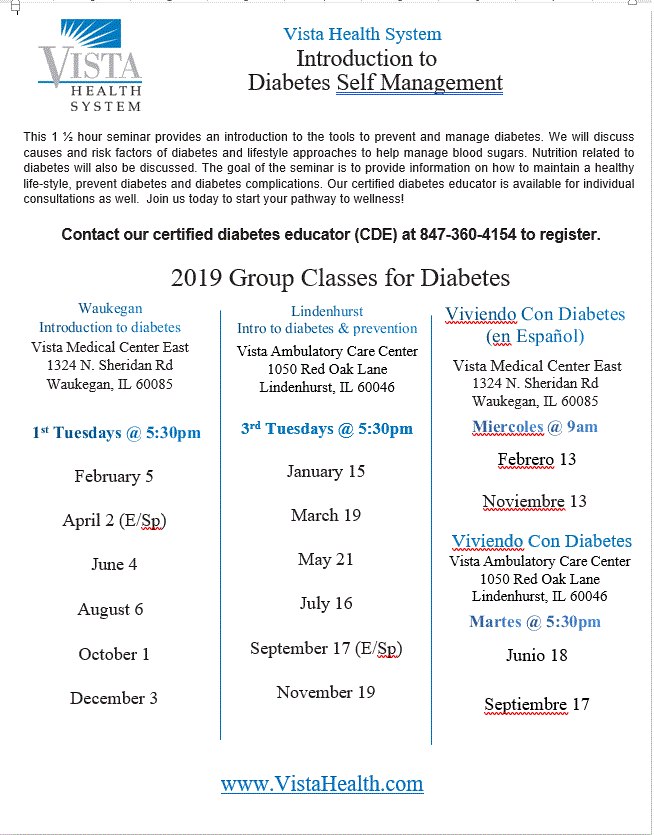 Download the Diabetes Passport to keep track of your medications, appointments and health.
About Diabetes
Diabetes is the fourth leading cause of early death in Lake County. You can take action in few simple ways:
Take the Diabetes Risk Test to determine if you may be at risk for prediabetes: DoIHavePrediabetes.org. The free, anonymous test takes less than one minute to complete.

Talk to your doctor if your score indicates you are at risk for developing type 2 diabetes.
A person with prediabetes has a blood sugar level higher than normal, but not high enough for a diagnosis of diabetes. Catching prediabetes early can help prevent diabetes and help people avoid serious health complications including heart disease, blindness, kidney failure, and lower-extremity amputations.

Risk factors for developing diabetes include weight, age, family history, history of gestational diabetes, polycystic ovarian syndrome, and certain ethnic backgrounds, such as African Americans, Hispanic/Latinos, American Indians, Asian Americans or Pacific Islanders.
4. Class: Are You at Risk for Diabetes?
Lake County Health Department
Mano a Mano Family Resource Center
Erie Family Health Center
Lake County Health Department
Demetrius Willis,

Co-Chair
Lake County Health Department
Advocate Condell Medical Center
Rosalind Franklin Health Clinics
Lake County Health Department
Northwestern Lake Forest Hospital
Want more information on the Diabetes Prevention & Management Action Team Action Team?